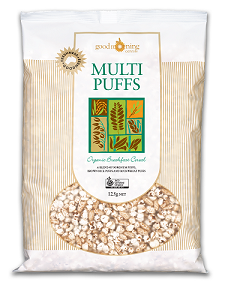 ie-produce
Good Morning Multi Puffs 125gm
Good Morning Multi Puffs 125gm
Multi Puffs is a mix of Brown Rice Puffs, Buckwheat Puffs and Sorghum Puffs. The variety of puffs give a different texture and taste.
Ingredients: Organic Sorghum, Organic Brown Rice, Organic Hulled Buckwheat
Marvellous Multi-grain
Mixing up your grains gives you the different vitamin and mineral benefits of each. Our Multi Puffs contain a mixture of sorghum, brown rice and buckwheat puffs – all naturally delicious.
Managing an allergy
Our equipment is never used for nuts, and we process grains with gluten in a completely separate production room on dedicated equipment. 
---
More from this collection