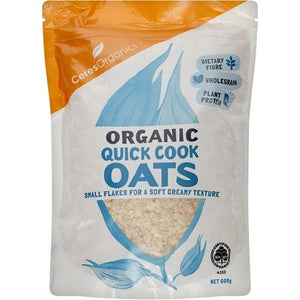 ie-produce
Ceres Organics Rolled Oats, Wholegrain Quick Cooking - 600g
Ceres Organics Rolled Oats, Wholegrain Quick Cooking - 600g
We've been busy sowing our wild oats to put the good in your morning! To be honest, it'll be better than good because these oats are certified organic - this means no synthetic chemicals touch them at any point of their wee journey through life.
These wholesome wholegrain oats are rolled into small thin flakes for a soft and creamy texture in breakfast and baking. Thanks to their petite size, they cook much faster.
Whip up a creamy and tasty porridge by adding your favourite milk. Just use double the amount of liquid to oats, bring to the boil and simmer for around 3-5 minutes, stirring occasionally. Or soak overnight in the fridge with water or milk and serve cold with grated apple and yoghurt.
OriginProduct of Canada, packed in NZ
BrandCeres Organics
Allergen InfoCONTAINS GLUTEN (OATS). MADE ON EQUIPMENT THAT ALSO HANDLES TREENUTS & PEANUTS.
Ingredients Certified Organic Whole Grain Oats
---
More from this collection