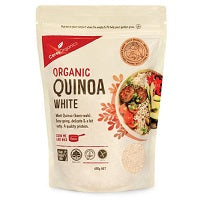 ie-produce
Ceres Organics Quinoa White 450gm
Today, we go to the home of quinoa and work with local farmers to bring you the genuine stuff. Organically and sustainably grown quinoa that's fairly building our global communities. This ain't no ordinary quinoa!
Despite its super-ness, it's easy-going. Cook just like rice. Eat hot or cold. Even if avoiding gluten. Tick, tick, tick! It's delicate, a bit nutty, with a firm bite. Be ready in 15. *Disclosure. Quinoa may act like a grain, but it's a seed in disguise. Kind of like superman.
TO COOK: Rinse under running water. In a pot, put in a cup of quinoa with two cups of water or stock (for added flavour), cover and bring to the boil. Reduce heat to simmer until all liquid is absorbed, about 15-20 minutes.
Ingredients: Certified Organic White Quinoa
---
More from this collection