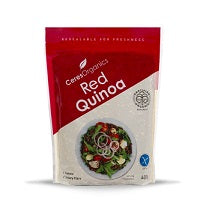 ie-produce
Ceres Organics Quinoa Red 400gm
At Ceres Organics we like our food wholesome and pure. So our organic Red Quinoa is just that! Straight up goodness. An important crop for the Incan Empire back in the day, quinoa has a unique nutrition profile that's led to its modern-day 'superfood' status.
It's packed with nourishing plant-based goodness, including quality protein and dietary fibre. Great for those avoiding wheat, our Red Quinoa is easy to prepare and super versatile - simply use like any other grain.
TO COOK: Rinse under running water. In a pot, put in a cup of quinoa with two cups of water or stock (for added flavour), cover and bring to the boil. Reduce heat to simmer until all liquid is absorbed, about 15-20 minutes.
Ingredients: Certified Organic Red Quinoa
---
More from this collection