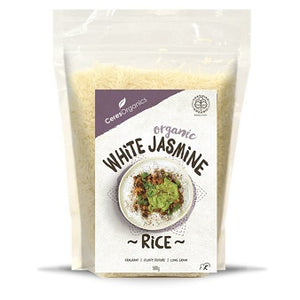 ie-produce
Ceres Organics Jasmine White Rice - 15% off
Sale price
$7.20
Regular price
$8.50
Ceres Organics Jasmine White Rice 500gm
At Ceres Organics we like our food pure and wholesome. That's why our organic white jasmine rice is grown by 'working with nature', using no chemical pesticides, herbicides or artifical fertilisers.
With its rich aroma, Jasmine rice, which is native to Thailand, is also known as Thai fragrant rice. This long grain has a subtle sweet flavour, fluffy texture, and is super easy to prepare. Great in salads and stir-fries, or any dish you would usually use rice.
To cook: Rinse under running water then drain. Add 2 cups of water to every cup of rice. Bring to the boil in an uncovered pot. With the lid on reduce heat to simmer for 15 minutes. Turn off heat, then fluff with a fork before serving.
Ingredients: Certified Organic Jasmine White Rice
---
More from this collection