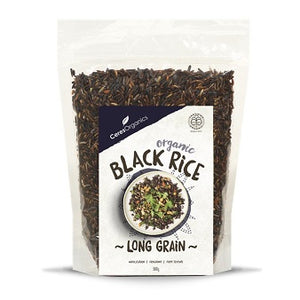 ie-produce
Ceres Organics Black Rice
Ceres Organics Black Rice 500gm 
At Ceres Organics we like our food pure and wholesome. That's why our organic black rice is grown by 'working with nature', using no chemical pesticides, herbicides or artificial fertilisers.
Also known as 'forbidden rice', this wholegrain fragrant long grain rice has been revered for centuries for it's unique appearance and health properties. It's full of nourishing plant-based goodness, including dietary fibre. Its strong nutty, slightly sweet flavour is great in traditional Asian desserts, but also works well in salads and other rice-based dishes.
To cook: Rinse under running water then drain. Add 2 cups of water to every cup of rice and bring to the boil in an uncovered pot. With the lid on, reduce heat to simmer for 20 minutes. Turn off heat and let stand for 10-15 minutes.
Ingredient:s: Certified Organic Black Rice
---
More from this collection