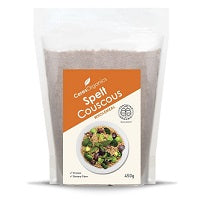 ie-produce
Ceres Organics Couscous Spelt Wholemeal 450gm
At Ceres Organics we like our food wholesome and pure. So our organic Spelt Couscous is just that! It's made simply from tiny grains of steamed spelt. Straight up goodness. This nourishing wholefood provides protein and dietary fibre, and it's super versatile. Its slightly nutty flavour is great in everything from breakfast dishes, salads, hearty mains and even desserts.
TO COOK: Add 1 ½ cups boiling water or stock to 1 cup of couscous in a bowl. Cover and let stand for 5 minutes. Then fluff up with a fork.
Ingredients: Certified Organic Wholemeal Spelt
Allergen Info: Contains gluten and wheat. Packed on the same line as products containing tree nuts and sesame.
---
More from this collection