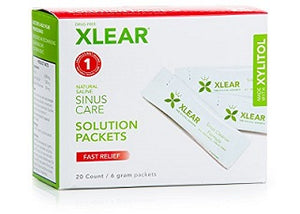 ie-produce
Xlear Sinus Care Refill Packets 20 Ct
Xlear Sinus Care Refill Packets 20 Ct
ALLEVIATE NASAL CONGESTION QUICKLY - Refill any neti pot and get ready to feel fast-acting relief from nasal congestion, facial pain, and sinus pressure with these XLEAR Neti Pot Packets. The solution dissolves quickly to conveniently cleanse nasal and sinus passages.


THE ADDED BENEFIT OF XYLITOL – Xylitol is a safe, natural ingredient that stimulates the body's own cleansing system. Xylitol prevents irritants and bacteria from sticking to nasal tissues while moisturizing these delicate tissues. This reduces the dried-out sensation experienced with other neti pot packets.

EFFECTIVE, NATURAL INGREDIENTS YOU CAN TRUST – XLEAR Neti Pot salt solution is an all natural sinus congestion treatment that contains xylitol, saline, and sodium bicarbonate in easy-to-use packets. The natural ingredients makes these the perfect solution for anyone looking for neti pot for kids.

CONSISTENT AND RELIABLE SINUS RELIEF - XLEAR Neti Pot Refills are a physician-designed hyperosmotic solution that is available over-the-counter to provide relief from nasal and sinus congestion due to allergies, colds and flu and other harmful pollutants.

COMPATIBLE WITH ALL NETI POTS - There are countless neti pot variations available, but this is the only solution that contains xylitol. Increase the effectiveness of the neti pot you already have by using XLEAR Neti Pot Refills and enjoy clean and clear breathing!
Note
:
Products with electrical plugs are designed for use in the US. Outlets and voltage differ internationally and this product may require an adapter or converter for use in your destination. Please check compatibility before purchasing.
---
More from this collection