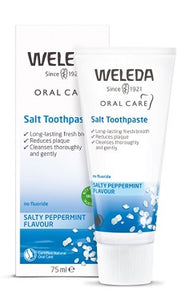 ie-produce
Weleda Toothpaste Salt Toothpaste 75ml
Weleda Toothpaste Salt Toothpaste 75ml
Fluoride-free toothpaste with sea salt and mineral cleansers
Work with your body to naturally clean teeth. Sea salt stimulates salivation, increasing the cleaning power of our natural ingredients. Neutralises harmful plaque and keeps gums and teeth healthy and strong.
Description
Sea salt has a mouth-watering effect – literally! Weleda formulated this toothpaste to let saliva do its natural work, gently flushing your whole mouth clean. Natural extracts of ratanhia root, myrrh and chestnut bark tone the gums, while gently abrasive particles clean the teeth to prevent plaque and tartar building up, protecting against the formation of cavities. The zesty, salty taste is further freshened with essential oil of peppermint, for tingly-fresh tooth-cleaning, without fluorides.
Benefits
Salty taste with peppermint freshness, increases saliva to stimulate self-cleaning. Strengthens gums, reduces tartar and neutralises damaging acids. Protects against cavities forming. Certified natural dental care. Free from surfactants, synthetic preservatives, flavours, colourants, or raw materials derived from mineral oils.
How to use
Apply a small amount of toothpaste to a dry toothbrush and brush over the teeth and gums for a thorough cleaning.
---
More from this collection