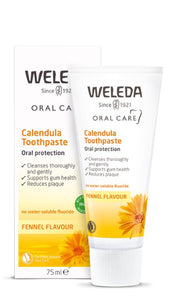 ie-produce
Weleda Toothpaste Calendula Toothpaste 75ml
Weleda Toothpaste Calendula Toothpaste 75ml
Mint-free toothpaste with natural plant extracts and minerals
Gently but thoroughly cleans, protects and soothes your teeth. The perfect option for anyone wanting a peppermint-free toothpaste.
Calendula Officinalis Extract
Calendula Officinalis Extract
Extracts of the blooming aerial parts of the calendula plants have a yellow green to brown-green colour. They contain various carotenoids, flavonoids and saponins. Calendula Officinalis Extracts have smoothing properties and support the regeneration of the skin.
Free from: 
water-soluble fluoride, sugar, artificial sweeteners, surfactants, flavours, synthetic preservatives, fragrances, colourants and raw materials derived from mineral oils.
---
More from this collection