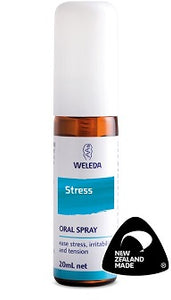 ie-produce
Weleda Stress Oral Spray 20ml
Weleda Stress Oral Spray 20ml
Eases stress, irritability and tension
Calms worry, nervous stress, irritability and tension during stressful times. Convenient to use, speedy in effect, relief is just a few sprays away.
Description
At times we all feel the effects of everyday living especially during busy work periods, commuting, preparing to go away, speaking in public or sitting exams. Weleda Stress Oral Spray calms worry, nervous stress and tension during stressful times. With its mild homoeopathic formulation of traditionally used natural remedies, it is non-habit forming and does not cause day time drowsiness. Easy and convenient to use, speedy in effect, keep one in your pocket or handbag for relief a few sprays away.
Natural, made in New Zealand. Homoeopathic Medicine.
INGREDIENTS:
Contains equal parts of: Chamomilla matricaria 6x; Pulsatilla pratensis 6x; in ethanol/water base.
How to use
Adults: 1 or 2 sprays. Hold spray bottle upright, a few centimetres from the mouth. Open mouth and spray up to 3 times daily or as directed by a healthcare professional.

WARNING

Always read the label. Use only as directed. If symptoms persist, consult your health care professional.
Keep all medicines out of reach of children. Store below 30°C, away from direct sunlight and strong smelling substances.
---
More from this collection