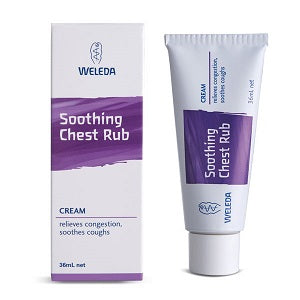 ie-produce
Weleda Soothing Chest Rub, 36ml
Weleda Soothing Chest Rub, 36ml - relieves congestion, soothes coughs
A warming, soothing herbal cream containing camphor and pure essential oils of eucalyptus and rosemary to help relieve congestion and soothe coughs.
Each 1g contains: Infusion, equiv. dry: Hypericum perforatum, flowering herb 1.9mg; Plantago lanceolata, leaf 5.7mg; Oil extract, equiv. fresh: Hypericum perforatum, flower 10mg; Oil extract equiv. dry: Plantago lanceolata, leaf 20mg;  Camphor 20mg; and essential oils: Eucalyptus Oil 10mg; Rosemary Oil 10mg; in a base containing natural vegetable oils and beeswax. 
Free from synthetic fragrances, preservatives, parabens and free from petrochemical derivatives, e.g. paraffins.
Rub a small amount 5mm - 1 cm (child 3 years to 14 years) or 1 cm - 2 cm (14 years to adult) into the chest and upper back twice daily, or as directed by your health care professional. For children under 3 years and for sensitive skin, use 2-3mm diluted with a small amount of vegetable oil. 

If coughing or other symptoms persist, consult your health care professional. 

Warnings: Caution: Not To Be Taken. Keep out of reach of children.
Do not use this or any product containing camphor in the nose.

There is no concern if inadvertently tasted, but if accidentally swallowed contact your doctor or the Poison Centre immediately. 
---
More from this collection