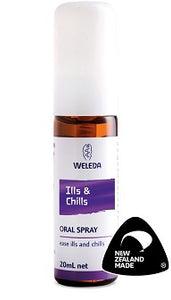 ie-produce
Weleda Ills & Chills Oral Spray, 20ml
Weleda Ills & Chills Oral Spray, 20ml - Take at the onset of ills & chills to support clear airways and soothe throats
We all know when ills and chills begin to take hold. Take Weleda lls & Chills Oral Spray at the onset of ills and chills to support clear airways and soothe throats. With its mild homoeopathic formulation of traditionally used natural remedies, it is ideal when you want fast relief. Easy and convenient to use, speedy in effect, keep one in your pocket or handbag for relief a few sprays away. Suitable for Adults and Children 6 years and above. Suitable for vegans.
Contains equal parts of Allium cepa 6x, Drosera 6x and Gelsemium sempervirens 6x in ethanol/water base.
Adults/children over 12 years: 1 or 2 sprays. Children 6 to 12 years: 1 spray. Hold spray bottle upright, a few centimetres from the mouth. Open mouth and spray up to 3 times daily. In acute cases, take every 2 hours or as directed by a healthcare professional.
---
More from this collection