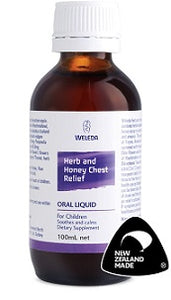 ie-produce
Weleda Herb and Honey Chest Relief for Children 100ml
Weleda Herb and Honey Chest Relief for Children 100ml
Soothe and calm the chest and airways
Combines herbal ingredients in a comforting honey syrup to soothe the chest and airways in children.
Description
A soothing product designed for children. The expectorant properties of Thyme, Aniseed and Horehound are combined with the calming properties of Elder Flowers and the soothing properties of Marshmallow root and Iceland Moss. Natural, made in New Zealand.

INGREDIENTS:
Each 5ml contains: Decoction equiv. dry: Althaea officinalis (Marshmallow), root 46.9mg; Cetraria islandica (Iceland Moss) 46.9mg; Marrubium vulgare (Horehound), herb 46.9mg; Pimpinella anisum (Aniseed), fruit 46.9mg; Sambucus nigra (Elder Flower), flowers 46.9mg; Thymus vulgaris (Thyme), herb 46.9mg. Also contains: Sugars (Honey, Raw Sugar); Glycerol; Citric Acid.
How to use

Take one 5ml teaspoon (child 2 to 12 years) or two 5ml teaspoons (adult) in warm water every three to four hours, or as directed by your health care professional. Up to four doses can be taken daily. Reduce the frequency of doses and then stop taking the remedy as relief is obtained. Refrigerate after opening and use within 1 month. NOTE: Not suitable for diabetics, or infants under one year. Seek professional advice before giving to children under 2 years.

WARNING

Always read the label. Use only as directed. If symptoms persist, consult your health care professional.

Keep all medicines out of reach of children. Store below 30°C, away from direct sunlight and strong smelling substances.
---
More from this collection