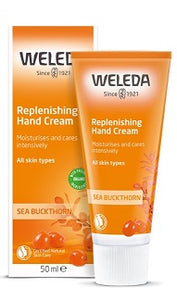 ie-produce
Weleda Hand Cream Replenishing Sea Buckthorn 50ml
Weleda Hand Cream Replenishing Sea Buckthorn 50ml
Light, quickly absorbed hand cream for everyday use
Intensively active cream to protect and moisturise the skin on your hands with valuable, rich oils. A fruity fresh fragrance of sea buckthorn - a touch of Tuscany.
Description
Precious organic sea buckthorn oil is rich in the natural ingredients your skin needs to renew and repair itself, so it's perfect for the skin on your hands, however rough or dry. We add light sesame oil to keep the mix easily absorbed, and we've chosen the revitalising fragrance blend of lively grapefruit, fruity-sweet mandarin and precious sandalwood essential oils. Your rough hands are moisturised and become beautifully smooth and supple.
Benefits
Moisturises and leaves rough, dry skin on hands smooth. Dermatologically tested, certified natural skin care. Free from synthetic preservatives, fragrances, colourants or raw materials derived from mineral oils.
How to use
Apply a small amount of Sea Buckthorn Hand Cream to your hands and massage until completely absorbed. Apply as often as needed.
---
More from this collection