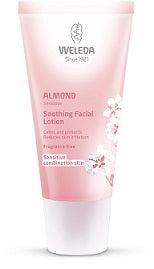 ie-produce
Weleda Almond Soothing Facial Lotion
Weleda Almond Soothing Facial Lotion 30ml
A light, fragrance-free moisturiser formulated for sensitive skin
Stop worrying about dryness and irritation, with a lotion which brings you the super-sensitive benefits of soothing, quickly-absorbed almond oil
Almond
The almond is full of minerals and vitamins. It provides unsaturated fatty acids, high quality protein and on top of that, tastes delicious. So it is probably no surprise that the almond scores high in skin care.
Description
Your know how your skin reacts to the tiniest change of conditions – to heat, cold, air-conditioning, sometimes even to a late night? Almond oil is nature's answer – a swiftly absorbed, super-skin-friendly oil which we take from organic sources and whisk into this ultra-light lotion for sensitive, combination and dry skin. With simply natural ingredients, it's a cool, light, calming balm for over-reactive skin.
Benefits
Soothes and moisturises sensitive combination skin. It's light consistency is rapidly absorbed, boosts skin's protective functions, reduces redness, tautness, itching and irritation.
Hydrates, soothes and balances the skin when it is irritated and unbalanced. Gradually the skin will feel softer and more balanced and better withstand the elements and external stress.
Dermatologically approved including for skin prone to allergies. Free from fragrances, synthetic preservatives, colourants, free of raw materials derived from mineral oil.
Almond
( Alicante, Spain )
In the hills near the city of Alicante a hundred almond growers nurture one of the largest almond cultivation sites in Europe.
How to use
Apply to the face, neck, decolletage every morning/evening after cleansing.
---
More from this collection