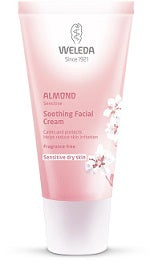 ie-produce
Weleda Almond Soothing Facial Cream
Weleda Almond Soothing Facial Cream 30ml
Day and night care for sensitive dry skin with almond oil
Keep your skin calm and carry on daily life – all the ingredients in Almond Facial Cream are selected to protect and soothe.
Almond
The almond is full of minerals and vitamins. It provides unsaturated fatty acids, high quality protein and on top of that, tastes delicious. So it is probably no surprise that the almond scores high in skin care.
Description
Sensitive skin needs the most delicate and supportive care, and that's why we formulated this rich daily-use cream with almond oil. Held safely inside the tough outer skin of the almond is an oil ideally suited to tender, easily-upset skin. It stabilises the skin's protective layer, harmonises, calms and moisturises intensively, acting on redness, dryness and itching at the same time. It has a rich consistency and provides the skin with extra nourishment and protection. Your face has never felt as smooth and radiant.
Excellent for use below make-up.
Benefits
Boosts skin's protective function, protecting against elements. Moisturises, calms redness, tightness and itching. Fragrance-free and dermatologically tested skin-compatible, even for skin prone to allergies.
Free from synthetic preservatives, fragrances, colourants, free of raw materials derived from mineral oil.
Sweet Almond Oil
Prunus Amygdalus Dulcis (Sweet Almond) Oil
The fine and light Sweet Almond Oil is very skin-friendly and ideal for sensitive, rough, flaky and dry skin. Sweet Almond Oil is very suitable for the care of infants and small children. It is characterised by a high content of unsaturated fatty oils, such as oil and linolenic acid.
Almond ( Alicante, Spain )
In the hills near the city of Alicante a hundred almond growers nurture one of the largest almond cultivation sites in Europe.
How to use
Apply to the face, neck and decolletage every morning/evening after cleansing.
---
More from this collection