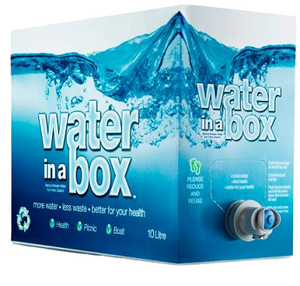 ie-produce
Water in a Box 10lt
Water in a Box™ has been created to provide you with high quality water in one of the most environmentally friendly packaging systems available today.
There are no bottles which mean less plastic and less waste. In fact there is over 80% less plastic when compared to the equivalent water volume in plastic bottles or plastic containers. Now that's got to be better for the environment.
Not only that, but the water inside this box comes from one of the deepest, highest quality aquifers in New Zealand. This water has been filtered through volcanic rock for 50 years and then stored by nature deep underground for an average period of 1800 years.
This natural process produces a super soft water with very high silica content, which is an essential nutrient for good health and wellbeing.
For great ideas on how to reuse the water bladder in this box please visit www.waterinabox.co.nz
PLEASE REDUCE AND REUSE
Help us reduce the Carbon Footprint by purchasing Water in a Box™
---
More from this collection