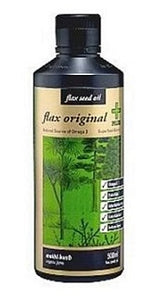 ie-produce
Waihi Bush Flax Original Plus 500ml
Flax original Plus is a wonderful combination of foods brought together for this unique blend in order to support winter wellness.  All these ingredients are found individually in nature, but when combined create the perfect blend to boost your immune system and support you during the colder and darker months of the year.
Features of Flax Plus
Flax original Plus is a unique blend of RAW, extra virgin flax seed oil, Kelp, Vitamin D Yeast, Kale Leaf and Selenium Yeast.
Flax Plus is a good source of Omega-3, Vitamin D and K, Iodine and Selenium
Flax Plus is cold pressed in the absence of light, air and reactive metals and contains Certified Organic Ingredients.
Advantages of choosing Flax Plus:
New Zealand soils are low in some key minerals so we've used food ingredients high in those minerals to help you get the best from your diet.
We take the highest quality ingredients and combine them under very stringent conditions with our rich, nutty-tasting flax seed to give you the best goodness your body deserves.
Our oils are sustainably farmed, preserving our natural resources for future generations.
This blend has been specially formulated using over 20 years of research into the Omega 3 and other natural health foods.
The Benefits of having Flax Plus in your diet:
Why consume Flax Seed Oil? – A concentrated form of Omega-3 that works for every cell in the human body. It's a great working fat.
Why eat Kelp? – A natural source of iodine and other minerals, which are critically important to the function of your thyroid which regulates your metabolic rate.
Why eat Vitamin D Yeast –  can supplement lower levels of sunlight during winter months. Vitamin D is essential for metabolising calcium into bone and supports a strong immune system; helps to maintain muscle and joint health; supports cardiovascular health and brain function, and influences insulin sensitivity
Why eat – Selenium Yeast.  NZ soils are short of Selenium which is essential for an effective immune system. Selenium is a powerful antioxidant and supports tissue elasticity and resilience.
Why is Kale good for you? – High in Vitamin K which supports building strong bones, reduces inflammation throughout the body and supports your immune system.
You can be confident Flax Plus will provide the best combination of ingredients to support your winter wellness, your thyroid and serve to boost your immune system.
---
More from this collection