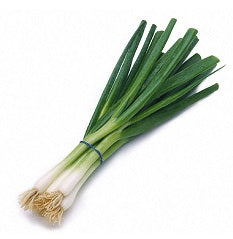 ie-produce
Vegetables – Spring Onions
Vegetables – Spring Onions - BioGro Certified
bunch
Spring onions belong to the onion family and in some countries they are known as scallions, bunching or green onions.
They are harvested when young and before the white bulb has time to form properly and are tender and mild with a long white slender neck and hollow green tops. Spring onions are milder than onions so can be eaten raw in salads and sandwiches. The green tops can be used like chives, as a garnish or sliced in salads or stir fries.
How to prepare
Trim root end and dark green leaves, wash well, slice thinly or into short lengths.
Ways to eat
The entire onion, including the top, can be sliced and used raw in salads, as a garnish or cooked in stir fries. Spring onions are often used in Oriental cooking. Cut the green tops very finely and use like chives. Spring onions can be used instead of onions in some recipes.
These baby onions are higher in most nutrients compared to their older counterparts except for dietary fibre. They are a source of vitamin C.  Flavonoids, carotenoids and some sulphur compounds are the phytonutrients found in spring onions.
---
More from this collection