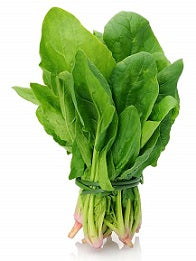 ie-produce
Vegetables – Spinach
Vegetables – Spinach - BioGro Certified
200gm
When cooked and chopped, the taste is similar to silverbeet, however, spinach has a milder flavour. Spinach and silverbeet can be interchanged in recipes.
New Zealand spinach
This is a native that grows wild, has triangular leaves and trails over the ground. It is generally cooked as the leaves are coarse and slightly furry when raw. The flavour is similar to standard spinach.
Spinach can be eaten raw in cold or warm salads or cooked and used as a side dish, in soups or pasta sauces.
Spinach deserves its reputation as a health enhancing vegetable, being a good source of both nutrients and phytonutrients. It is a good source of vitamins A (in the form of beta-carotene), B6 and folate. Spinach is also a source of iron plus contains potassium.  Spinach is also low in energy (kilojoules). The phytonutrients of most importance are the carotenoids (beta-carotene, lutein and zeaxanthin), flavonoids and other phenolic compounds.
It should also be noted that spinach contains oxalic acid which can decrease the body's absorption of calcium and iron from spinach. Cooking can reduce the effect of oxalic acid.
---
More from this collection