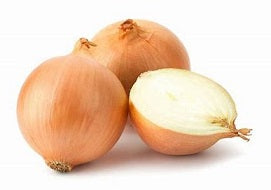 ie-produce
Vegetables – Onions Brown
Vegetables – Onions Brown - BioGro Certified
400gm
Our organic True Earth™ Onions are an essential ingredient in many dishes. As a family there is not a day that goes by that we do not use them.
True Earth Onions subject to availablity!
They are, however, relatively difficult to grow organically with weed management being our biggest issue and cost. Onions prefer a good light soil with plenty of compost added. The key factors in the successful growing of onions are planting at the right time and keeping the weeds down as onions need their full growing season and resent competition from weeds.
New Zealanders are frequent consumers of onions.  While onions are not rich in the common nutrients they are a source of vitamin C. Onions are also low in energy.  However, onions are rich in phytonutrients – flavonoids, fructans, saponins and sulphur containing compounds.  The red varieties are a source of the flavonoids anthocyanins.  Shallots are a good source of vitamin C and a source of vitamin A and magnesium.
---
More from this collection