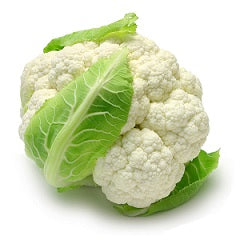 ie-produce
Vegetables – Cauliflower
Vegetables – Cauliflower - BioGro Certified
Whole
Cauliflower, from the Latin word meaning 'cabbage flower', is a member of the brassica family.
It has been grown for more than 2,000 years. Native to the Mediterranean, it has been part of the European diet for about 500 years. It is now a popular vegetable in New Zealand. Miniature cauliflowers, ideal for a single serve, are sometimes available.
Cauliflower is a good source of vitamin C and a source of folate.  One serving of cauliflower (75g) contains 95% of an adult's daily requirement for vitamin C. As a member of the brassica family of vegetables it contains phytonutrients such as glucosinolates, carotenoids and phenolic compounds.
Ways to eat
Add raw or lightly cooked to salads, make into pickles, add to soups, braises and stir fries. Use as crudités, either raw or blanched, served with dip or dipping sauce. Serve steamed or boiled with a white or cheese sauce. Cauliflower can be used like broccoli.
---
More from this collection