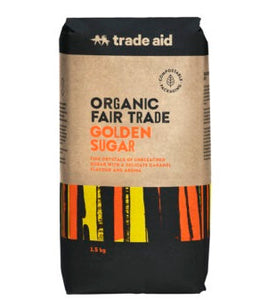 ie-produce
Trade Aid Golden Granulated Sugar 1.5kg
Trade Aid Golden Granulated Sugar 1.5kg
This organic, unbleached sugar is perfect for everyday use in cooking, baking or any time you want to add a little sweetness. Produced entirely without chemicals, the sugar retains a thin covering layer of cane juice on the crystals for a unique golden colour and natural taste. Organically grown by members of the Manduvira co-operative in Paraguay. Our commitment to this long-term relationship has enabled the small-scale growers to invest in their farms and communities and thrive through fair trade.
Now in a new, sealed bag to ensure the sugar stays soft.
Please dispose of this bag thoughtfully. It is 100% compostable in your home compost or worm farm. 
Store in a cool dry place.
Ingredients:
Cane Sugar *^ (Organic*, fair trade ^)
Allergen & dietary information:
Egg free, nut free and sesame free
---
More from this collection