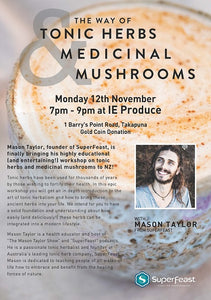 The Way of Tonic Herbs Medicinal Mushrooms
Sign Up
---
Mason Taylor, founder of SuperFeast, is bringing his epic Tonic Herb and Medicinal Mushroom Workshop to NZ!!
Introducing...
Mason Taylor is a health educator and host of The Mason Taylor Show podcast. He is a passionate tonic herbalist and founder of Australia's leading tonic herb company, SuperFeast. Mason is dedicated to teaching people of all walks of life how to embrace and benefit from the healing forces of nature as they create a unique and dynamic health philosophy. A long and happy life is the intention. Mason also brings a refreshing and cheeky sense of humour to his talks, podcast, and life, because longevity relies on a good belly laugh.
The Way of Tonic Herbs Workshop
Tonic herbs have been used for thousands of years by those wishing to potentiate and fortify their health against ageing and disease. Ancient herbalists were very much focused on longevity and exploring the potential of their bodies, and the use of tonic herbs and medicinal mushrooms were integral to that exploration (especially Taoist tonic herbs). With the modern world getting more and more intense, the magic of these herbs are coming forth to help keep our immune systems strong, our adrenals health and the body nourished.
In this epic workshop you will get an in depth introduction to the art of tonic herbalism and how to bring these ancient herbs into your life. We intend for you to have a solid foundation of understanding about where these herbs fit into a modern lifestyle while getting the chance to see how easily and deliciously these herbs can be integrated into the modern lifestyle.
In this talk you will learn:
● The core philosophy and guide for understanding Taoist tonic herbs
● Ways the herbs address stress and exhaustion
● Why tonic herbs and medicinal mushrooms are a key to potent immunity
● How to understand the nature and energy of tonic herbs
● How to balance the hormones with adaptogens
● What you can do to rebuild your body's foundations of energy and vitality
● How to make tonic herbs a part of your lifestyle and longevity strategy
● Latest research on tonics and medicinal mushrooms
● How to make tonic herbal hot chocolates, coffees and more.
GOLD COIN DONATION
SuperFeast

Since 2011 SuperFeast has been Australia's premier provider of tonic herbs and medicinal mushrooms. Tonic herbs have been used for thousands of years to bring health and vitality to the entire body, to prevent ageing, support longevity and to create inner and outer radiance. We pride ourselves on finding the most pristine sources of these magical wildcrafted herbs and medicinal mushrooms, and are passionate herb nerds. We only sell what we take! Welcome to the wonderful world of tonic herbs; longevity and vitality live here.
https://www.superfeast.com.au/
Other links:
https://thetruthaboutcancer.com/medicinal-mushrooms-cancer/
https://www.huffpost.com/entry/cancer-foods_b_1192207