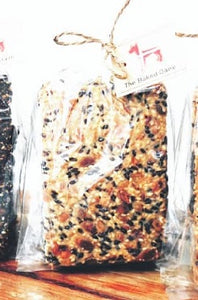 ie-produce
The Baked Dane's Rice Knækbrød
The Baked Dane's Rice Knækbrød 200gm
Our Rice Knækbrød is a gourmet cracker made from gluten-free ingredients. It is crispy, crunchy and slightly salty which brings out a resemblance to crackling. 
Serving suggestions:
Serve this with creamy dips on a platter
Top it with avocado for a delicious snack
Or enjoy a bag all on its own
Ingredients: Rice flour, Sunflower seeds, Flaxseeds, Sesame seeds, Pumpkin seeds, Olive Oil, Baking powder, Salt and Water.
Storage: Store in sealed bag or airtight container for up to six months. Keep out of direct sunlight. 
Knækbrød originates from Sweden and in the old days when the harvest was finished, and grain had been milled into flour they would bake Knækbrød enough to last throughout the long winter. Traditionally it was stored up under the roof where it hung off the beams.
---
More from this collection