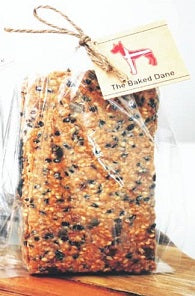 ie-produce
The Baked Dane's Original Knækbrød
The Baked Dane's Original Knækbrød 200gm

Our Original Knækbrød is made just like in the old days. It is packed with simple ingredients that gets rolled and baked to perfection so all the natural oils and flavors are released. 
Ingredients: Wheat flour, Sunflower seeds, Flaxseeds, Sesame seeds, Pumpkin seeds, Rolled oats, Olive Oil, Baking powder, Salt and water.
Storage: Store in sealed bag or airtight container for up to six months. Keep out of direct sunlight.
The Baked Dane says: Our Original Knækbrød is packed with seeds, oats, olive oil and of course that sprinkle of sea salt that starts the party in your mouth.
Available In: 200g (avg. servings per package - 8)
---
More from this collection