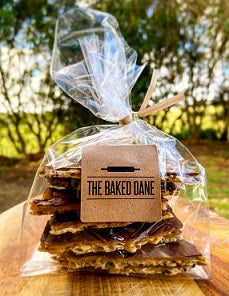 ie-produce
The Baked Dane's Dessert Rice Knækbrød
The Baked Dane's Dessert Rice Knækbrød 160gm
The Rice Dessert Knækbrød is layered it with toffee, dark chocolate and sprinkled with that magical touch of sea salt

It's a beautiful balance of salty, sweet and savory all at once.  
All ingredients are Gluten Free but produced and packed in the same facilities as our wheat products.
Ingredients: Rice flour, Sunflower seeds, Flaxseeds, Sesame seeds, Pumpkin seeds, Olive Oil, Baking powder, Salt, Water, Sugar, Liquid glucose, Vegetable Based Butter Replacer, Baking Soda and Sea Salt.
Storage: Store in a sealed bag or container, in pantry or fridge.
---
More from this collection