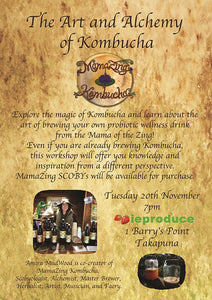 The Art and Alchemy of Kombucha
Sign Up
---
In this talk, Amira will explain the alchemy of Kombucha and the brewing process we use.  I will explain the health benefits of MamaZing Kombucha, including the Herbal properties.  I will explain how to brew at home and will have SCOBYs available (with complimentary organic starter Tea and Sugar packed in cellulose bags.) 
I will give tips on brewing for beginners and advanced brewers.  As well as suggestions for Herbal combinations for second ferment stage and what to do with spare SCOBYs. 
There will be an opportunity for questions and troubleshooting for those already brewing. 
 Bio: I have been studying medicinal plants since 1994, starting with essential oils and skincare and moving into the world of Herbs. 
Illustrating a book on medicinal Herbs years back propelled me even deeper into the world of plant medicine.  Nowadays, I use medicinal Herbs in MamaZing Kombucha, Teas, infusions, food, and balms. 
The Delectables offshoot of MamaZing features raw, beneficial Chocolates, fermented foods, and Tea blends.  MamaZing Kombucha is something I am passionate about, as it has resolved many of my chronic health issues and has me stronger and healthier than ever at 44.
My partner Jo and I work together to create MamaZing, MudWood music, and Art.  We live in the Faraway North on magical land where we are growing many things and starting great projects.  We are passionately Organic in our practices and living, as well as Artisans in all ways.
We love to share what we create with the world.  And are passionate about food as medicine.
We look forward to seeing you all.