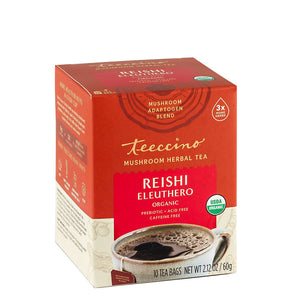 ie-produce
Teeccino Reishi Eleuthero French Roast Mushroom Herbal Tea 10tbags
Teeccino Reishi Eleuthero French Roast Mushroom Herbal Tea 10tbags
Reishi, Asia's famed health-promoting mushroom, enhanced with Siberia's gold-standard adaptogen, eleuthero, plus deep, rich coffee-like flavor from roasted chicory and ramón seeds
Dark Roast - Organic Mushroom Coffee
Ingredients: 
Carob pods*, chicory root*, barley*, ramón seed*, eleuthero root* (Eleutherococcus senticosus 1000mg), reishi mushroom extract* (Ganoderma lucidum fruiting body and mycelium blend: 500mg), organic coffee flavour. *Certified organic Produced on machinery that also processes almonds. *All Teeccino flavours are extracted from plants and comply with organic standards.
Flavour Notes: 
The rock stars of the plant & mushroom kingdoms are blended together to infuse ultimate health protection into your cup. Here's the skinny: Adaptogens help your body adapt to all kinds of stress while giving a boost to your endurance and immunity. We can all use more of that!
Reishi, revered for 2000 years in Asia as the 'Mushroom of Longevity', is paired with eleuthero, whose ginseng-like properties inspired Russian scientists to coin the term "adaptogen". Blended with prebiotic chicory and deep roasted ramón seeds, experience bold, rich flavour with adaptogens fortifying your defenses!
Teeccino's selection of adaptogenic mushrooms optimally paired with adaptogenic herbs are blended to enhance their combined wellness benefits. "Fruiting bodies" are what we think of as mushrooms while mycelium is like the roots and branches of mushrooms. I decided to include both parts of the mushrooms in Teeccino Mushroom Adaptogen Herbal Coffees because each provides valuable health benefits. The synergy of all these mushroom and herbal adaptogens blended together brings delicious well-being to your cup.
Health Benefits: 
Naturally caffeine free – no processing or chemical residue
Acid free – helps restore alkaline balance
Natural energy boost – from nutrients not stimulants
Antioxidants from carob, reishi, eleuthero, and ramón seeds
Contains heart-healthy potassium and soluble fiber
Prebiotic – inulin from chicory roots feed your probiotics, the beneficial microflora that improve gut health, regularity and supports your immune system. 650 mg of inulin extracts naturally into your cup from chicory roots during brewing.
Details: 
Teeccino tea bags make brewing Teeccino easy and convenient at home or on the go!
Each tea bag contains 6g of Teeccino. Regular tea bags only hold 1 - 2g. Teeccino tea bags have more than 3 times the product as regular tea bags to create a full-bodied brew.
The exact same Teeccino grounds are in the tea bags as in our 11 oz bags. Tea bags are simply Teeccino in a filter bag.
Each tea bag is individually wrapped in an envelope to seal in flavour and make it easy to transport wherever you go.
Certified 100% compostable tea bag filter paper. Oxygen-bleached.
100% recycled carton: 70% post-consumer material.
Instructions: 
When opening the envelope give a little shake at the top to move the tea bag to the bottom of the envelope. This makes sure the filter bag is below the tear-point in the envelope.
Pour 8 oz of boiling water over the tea bag in a cup and steep for 3-5 minutes.
Dunk the bag several times in the beginning for the best brew.
Use 2 tea bags for a stronger brew in a larger mug or tea pot.
Add milk, non-dairy milk and sweetener as you prefer.
Helpful Hints: 
Adjust brewing strength to your own personal preference. If a brew tastes too strong, simply dilute it by adding hot water, milk or non-dairy milk.
Brewed Teeccino can be reheated because its flavour doesn't go stale like coffee does. Store brewed Teeccino in the refrigerator for up to a week.
Iced Teeccino is delicious too!
---
More from this collection