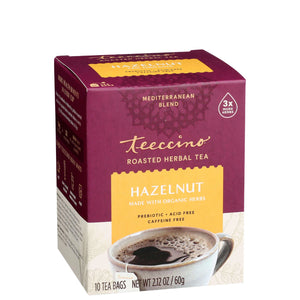 ie-produce
Teeccino Hazelnut Roasted Herbal Tea 10tbags
Teeccino Hazelnut Roasted Herbal Tea 10tbags
Buttery hazelnuts enriched by golden-roasted almonds against dark roasted chicory roots, slightly sweetened by dates & figs
Medium Roast - 75% Organic Coffee
Ingredients: 
Roasted organic carob, organic barley, organic chicory, dates, almonds, natural hazelnut flavour*, organic figs. Contains: Almonds. *All Teeccino flavours are extracted from plants and comply with organic standards.
Flavour Notes: 
The first time I tasted hazelnuts was during a road trip to France, traveling in a Volkswagen bus through little villages in the French Alps, when my taste buds were tantalized by a jar of a scrumptious spread. My schoolgirl French was put to the test by 'noisette' on the label. Too good to be peanut butter, not almond, what was it? It was Hazelnut butter!
My love affair with hazelnuts began then, but it really came to fruition when I designed Teeccino Hazelnut. I long since gave up rich desserts, but here was that mouth-watering butteriness with a nuttiness that keeps you desiring it way past the last drop. Hazelnut is what the word 'savoury' is meant to describe. Now you can enjoy something sinfully rich without worrying about either the calories or the caffeine. Oh, and with a splash or two of Frangelico®, the Franciscan friars Hazelnut liqueur, Teeccino Hazelnut is guaranteed to send you beyond the beyond!
Details: 
Teeccino tea bags make brewing Teeccino easy and convenient at home or on the go!
Each tea bag contains 6g of Teeccino. Regular tea bags only hold 1 - 2g. Teeccino tea bags have more than 3 times the product as regular tea bags to create a full-bodied brew.
The exact same Teeccino grounds are in the tea bags as in our 11 oz bags. Tea bags are simply Teeccino in a filter bag.
Each tea bag is individually wrapped in an envelope to seal in flavor and make it easy to transport wherever you go.
Certified 100% compostable tea bag filter paper. Oxygen-bleached.
100% recycled carton: 70% post-consumer material.
Instructions: 
When opening the envelope give a little shake at the top to move the tea bag to the bottom of the envelope. This makes sure the filter bag is below the tear-point in the envelope.
Pour 8 oz of boiling water over the tea bag in a cup and steep for 3-5 minutes.
Dunk the bag several times in the beginning for the best brew.
Use 2 tea bags for a stronger brew in a larger mug or tea pot.
Add milk, non-dairy milk and sweetener as you prefer.
Helpful Hints: 
Adjust brewing strength to your own personal preference. If a brew tastes too strong, simply dilute it by adding hot water, milk or non-dairy milk.
Brewed Teeccino can be reheated because its flavour doesn't go stale like coffee does. Store brewed Teeccino in the refrigerator for up to a week.
Iced Teeccino is delicious too!
---
More from this collection