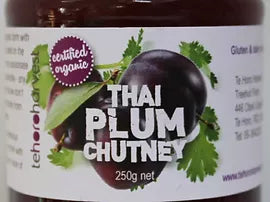 ieproduce
Te Horo Thai Plum Chutney 250gm
Te Horo Thai Plum Chutney 250gm
We make our chutneys with fruit in season and grown in Te Horo. We use the best quality cider or wine vinegars to ensure that the natural flavours of the fruit dominate. We also use only the minimum sugar and salt required to ensure that the fruit is properly preserved. We do not use any additives or chemical preservatives.
A rich yet fruity flavour from our wide range of plums, boosted with jalapeno chillis - stunning served with cold or hot pork, venison, beef or lamb. Also delicious with cheese.
 
Handmade from fresh organic plums from our orchard, chillis, wine vinegar, lemongrass, coriander, Thai basil, and a few other spices.
---
More from this collection