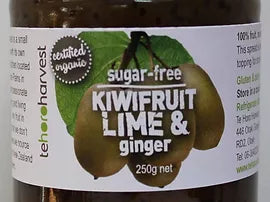 ie-produce
Te Horo Kiwifruit, Lime & Ginger 250gm
Te Horo Kiwifruit, Lime & Ginger 250gm
The sweetness comes from natural apple syrup reduced down from pressed organic apple juice. These jams are not as sweet as cane sugar jams but wow! the flavour! Nothing but the fruit and it is delicious.
Plump chunks of kiwifruit with just the right sweetness, a squeeze of lime and the warmth of ginger. Great with a nut butter!
I have it every morning with hazelnut butter. YUM!
Sugar Free
---
More from this collection