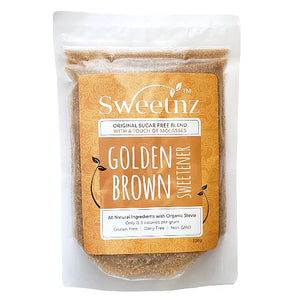 ie-produce
Sweetnz Golden Brown Sugar 300g
Sweetnz Golden Brown Sugar 300g
This is a great healthy replacement for those who love the look and taste of brown sugar.
Just like Classic Blend this has a combination of Erythritol and Organic Stevia with the added richness of Molasses.
Sprinkle generously on top of your favourite apple pie, porridge or into your coffee.
Low calorie, gluten free, dairy free, non-GMO.
Ingredients: Sweeteners (Erythritol, Organic Stevia Glycoside, Molasses). Note Excessive consumption may have a laxative effect. (Similar to eating some fruits).