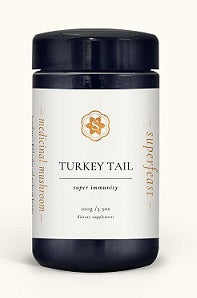 ie-produce
SuperFeast Turkey Tail 100gm
SuperFeast Turkey Tail 100gm - Super Immunity
Revered as a potent tonic herb on nearly every continent, turkey tail is high in the protein-bound polysaccharides PSK and PSP, which is thought to explain its ability to elevate both surface and core immunity against dangerous pathogens.
SUPPORTS:
Immune system
Liver function
Digestive health
Qi (Chi)
Respiratory health
Stress management (adaptogen)
INGREDIENTS:
Wild turkey tail mushroom fruiting body water extract powder, 10:1.
Sourced
Sourced wild from China's Chiangbai Mountains.
SERVING SUGGESTIONS:
Start with ¼ - ½ tsp daily. Stir into hot water or plant milk for an instant tonic tea.
This extract works well in hot or cold drinks, broths and even meals.
VEGAN
PALEO
DI TAO
GLUTEN FREE
SUGAR FREE
If pregnant or breastfeeding please consult with your healthcare provider before adding these herbs to your diet.
---
More from this collection