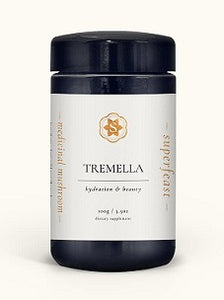 ie-produce
SuperFeast Tremella 100gm
Sale price
$55.95
Regular price
$69.95
SuperFeast Tremella 100gm - Hydration + Beauty
For thousands of years, Tremella has been used by noble men and women of the Orient as a youth-preserving tonic. This hydrating, beautifying herb is packed-full of potent antioxidants that create a radiant complexion and bring lubrication to our deep tissue and vital organs.
Tremella's abundant antioxidants help remove free radicals, known to cause inflammation and cell damage, from the body. They are also believed to enhance the body's own antioxidant production, especially superoxide dismutase, the ultimate free radical scavenger!
SUPPORTS:
Skin hydration & elasticity
Stomach yin
Qi (Chi)
Lung & bronchial health
Healthy antioxidant activity
Digestive health
INGREDIENTS:
Semi-wild tremella mushroom fruiting body water extract powder, 10:1.
Sourced
Sourced from China.
SERVING SUGGESTIONS:
Start with ¼ - ½ tsp daily. Stir into hot water or plant milk for an instant tonic tea. This extract works well in hot or cold drinks, broths and even meals.
VEGAN
PALEO
DI TAO
GLUTEN FREE
SUGAR FREE
These statements have not been evaluated by the TGA or FDA. If pregnant or breastfeeding please consult with your healthcare provider before adding these herbs to your diet.
---
More from this collection