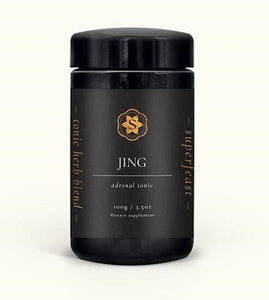 ie-produce
SuperFeast JING 100gm
Sale price
$55.95
Regular price
$69.95
SuperFeast JING 100gm - Adrenal Support
'Jing' is the Chinese word for 'essence' - specifically Kidney essence. In the ancient Taoist tradition, fatigue, weakness and hormonal imbalance, were all considered a result of jing depletion. Our nourishing JING blend is designed to restore and ignite jing energy and promote vitality.
SUPPORTS:
Core energy
Adrenal health
Kidney function
Hormone balance
Stamina
Libido
INGREDIENTS:
Wild/semi-wild prepared he shou wu, semi-wild eucommia bark, cultivated cordyceps CS-4, semi-wild morinda, semi-wild rehmannia root, semi-wild dendrobium stem extract powders.
Sourced Di Tao where possible from traditional herb-producing regions of China.
SERVING SUGGESTIONS:
Start with ¼ - ½ tsp daily. Stir into hot water or plant milk for an instant tonic tea. This extract works well in hot or cold drinks, broths and even meals.
VEGAN
PALEO
DI TAO
GLUTEN FREE
SUGAR FREE
These statements have not been evaluated by the TGA or FDA. If pregnant or breastfeeding please consult with your healthcare provider before adding these herbs to your diet.
---
More from this collection