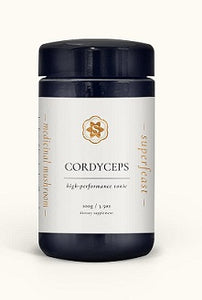 ie-produce
SuperFeast Cordyceps 100gm
Sale price
$63.95
Regular price
$79.95
SuperFeast Cordyceps 100gm - High-Performance Tonic
Considered a life-enhancing herb in the Taoist herbal tradition, cordyceps is used to increase blood oxygenation and cultivate 'jing' - the primordial energy living in the kidneys. With increased jing, we experience improved core energy, cellular performance, endurance and reduced recovery time.
Along with athletes, cordyceps is traditionally used by mothers post-partum as well as the elderly seeking to rebuild their foundational energy and resilience.
SUPPORTS:
Energy, stamina, and endurance
Libido and sexual function
Kidney, adrenal, heart, liver, and lung functions
Healthy immune response
Blood oxygenation     
Recovery
INGREDIENTS:
Cultivated cordyceps CS-4 strain mycellium extract powder, 10:1.
Sourced
Sourced from China.
SERVING SUGGESTIONS:
Start with ¼ - ½ tsp daily. Stir into hot water or plant milk for an instant tonic tea. This extract works well in hot or cold drinks, broths and even meals.
VEGAN
PALEO
GLUTEN FREE
SUGAR FREE
These statements have not been evaluated by the TGA or FDA. If pregnant or breastfeeding please consult with your healthcare provider before adding these herbs to your diet.
---
More from this collection