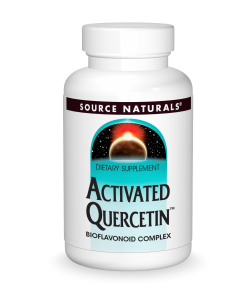 ie-produce
Source Naturals Activated Quercetin™ 100caps
Source Naturals Activated Quercetin™ 100caps
Bioflavonoid Complex
Activated Quercetin™
is a unique bioflavonoid derived from plant sources. In human cell culture studies, quercetin has been shown to inhibit histamine release. Additional research needs to be conducted to confirm the effects of quercetin, if any, in humans. Bromelain is a pineapple enzyme that may assist the body in times of stress, while vitamin C helps support the immune system.
*
Suggested Use:
3 capsules 1 to 2 times daily in divided doses, between meals. If you have a delicate, easily irritated stomach, take with meals.
Allergies:
Contains no yeast, dairy, egg, gluten, soy or wheat. Contains no sugar, preservatives, or artificial colour, flavour or fragrance.
Quercetin is a bioflavonoid, a pigment found in many plants such as tea, apples, sweet potato, watercress, red onion, broccoli, black plums, and a number of berries. Just as bioflavonoids protect plants, they have also been found to contain protective benefits for humans.
-  

What does it do?
Quercetin stabilizes cell membranes, and in particular it calms mast cells, the cells that store histamines. Stronger mast cell membranes minimize histamine release into the bloodstream. Decreasing this may support our ability to enjoy outside activities. How is it "activated?" In this formula, bromelain, an enzyme in pineapple, is added for enhanced potency. Source Naturals® Activated Quercetin™ also contains vitamin C. Studies suggest that vitamin C has a synergistic relationship with quercetin, which improves quercetin's use by the body.
-  

How should it be taken?
Activated Quercetin can be taken between meals. However, if you have a delicate, easily irritated stomach, take with meals.
---
More from this collection