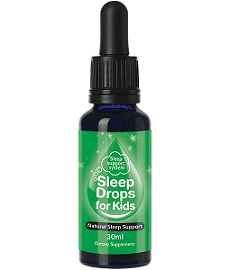 ie-produce
SleepDrops for Kids 30ml
Sleep Drops for Kids 30ml
100% natural remedy to support normal body responses for sleep challenges
Support for normal body response for restlessness during the night
Non-drowsy, non-addictive formula with no side effects
Great tasting formula with no artificial flavours or sugar
SleepDrops for Kids are a completely natural sleep formula designed to support your child's normal body sleep patterns. They're a non-habit forming, non-toxic, gentle way to help you to re-establish calm before bedtime. This helps settle children when they are overexcited or have an overactive mind which may be preventing them from achieving the sleep necessary for their growing bodies.
You can give your child SleepDrops for Kids with total confidence, knowing that you are giving them a completely natural formula made by a company that includes a team of Herbalists, Naturopaths, Nutritionists, and Homeopaths.
What Results And Benefits Can I Expect?
Support normal body response to sleeplessness before bed and during the night.
Total confidence knowing you are giving your child a safe, natural formula
Being able to enjoy your kids' bedtime routine again
More "me" or "adult" time in the evening
If your kids are sleeping then you can get a good night's sleep as well since you might not have to get up in the night
A refreshed and happy family with energy to get through the day
How Long Will It Last?
Each 30ml bottle contains 600 drops. At 5 drops per dose that's 120 doses in each bottle which should last you between 1-2 months.
Ingredients:
SleepDrops for Kids contains 13 scientifically researched herbals to support normal response to sleeping challenges. As well as 11 homeopathic sleep remedies support normal sleep patterns and calm while a blend of flower essences support normal body response to calm an overactive mind and will support your child relax, settle and sleep.
SleepDrops for Kids are a perfectly palatable liquid formula that you simply put under your child's tongue using the dropper provided with the bottle. We recommend using SleepDrops for Kids by popping them under their tongue.
Suitable for kids aged between 3 and 12 years old.
SleepDrops for Kids contain a proprietary blend of:
Glycerine, Ethanol, Purified water, Corydalis ambigua (Corydalis), Eschscholzia californica (Californian poppy), Humulus lupus (Hops), Lavandula officinalis (Lavender), Matricaria recutita (Chamomile), Melissa officinalis (Lemon Balm), Passiflora incarnate (Passionflower), Piper methysticum (Kava), Piscidia piscipula (Jamaican Dogwood), Scutellaria lateriflora (Skullcap), Silybum marianum (Milk Thistle), Tilia sp. (Lime flower), Zizyphus jujuba (Zizyphus) with Homeopathic Chamomilla, Coffea crud, Gentian lutea, Hypericum, Kali phos, Mag phos, Melatonin, Nux vomica, Passiflora, Pulsatilla, Vitamin C and combined with flower essences.
---
More from this collection