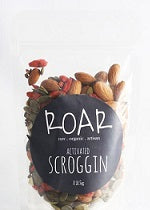 ie-produce
Roar Superfood Scroggin Activated Raw Organic 125g
pepitas*
almonds*
goji berries*
cacao nibs
*certified organic
Eat as a snack or trail mix. Ideal for use desserts including raw desserts or eaten with fresh fruit, oats (make your own muesli) or porridge for breakfast. It can also be ground up in a smoothie or substituted in the place of LSA (linseeds, sunflowers and almonds ground). 
The organic pepitas and almonds are soaked in water until they begin to sprout. They are then dehydrated at low temperatures (below 45°C) until they are about 10-15% lighter and really really crunchy. Goji berries and cacao nibs are then added for extra nutrition, flavour and texture
This scroggin mix is packed full of nutrients including most of the essential vitamins and minerals. It is also high in dietary fibre (making it filling) and high quality protein (for long lasting energy).
Goji berries and cacao nibs are also packed full of anti-oxidants to keep your body strong against the stresses of life.
---
More from this collection