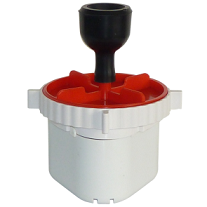 ie-produce
Fill2Pure 3 Litre REGULAR Water Filter Jug REGULAR Replacement Filter for 3L Fill2Pure Filter Jug
REGULAR Replacement Filter for 3L Fill2Pure Filter Jug
Replacement Fill2Pure Regular Filter to fit our water filter jug.
Instantly filters up to 99.99% of contaminants from water. 
The jug filters for the pH Alkalising and Regular jugs are interchangable so you can buy either of our two Jug types and then try a different filter at a later date.
The filter capacity is 600 litres or approximately 200 refills.  There is no need to count the litres, our filters will not expire, but the flow will go slower and slower when it is time to change the filter.  Anything that comes through is safe and pure. We remove the same amount of contaminants at the end of the filter life as we do at the beginning. 
We recommend you keep your filter Jug in the fridge to prolong the filter life, especially in Summer as the filter works harder when it is warm to prevent bacterial growth and this can clog up your filter life more quickly.
Size:  Each Filter is 9cm high, 10cm diameter.
---
More from this collection