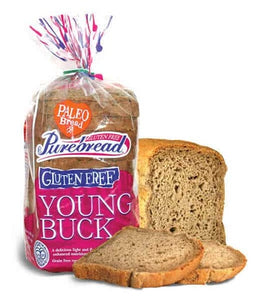 ie-produce
Purebread Young Buck Gluten Free & Organic
Purebread Young Buck Gluten Free & Organic
A delicious, light gluten-free sandwich bread, Young Buck Paleo boasts Buckwheat and Coconut Oil which combine to provide essential vitamins, minerals and carbohydrates to satisfy our appetites and fuel our bodies.
Young Buck is certified organic, and therefore, free from pesticides and herbicides commonly found in non-organic bread. All ingredients are grown and produced using sustainable farming practices that nurture and protect our land.
Ingredients: Fresh Yeast, Organic Buckwheat, Organic Tapioca Starch, Organic Free Range Eggs, Organic Linseed, Organic Sunflower Oil, Organic Coconut Oil, Organic Raw Cane Sugar, Organic Cider Vinegar, Certified Sea Salt, Xanthan Gum, Filtered Living Water.
---
More from this collection