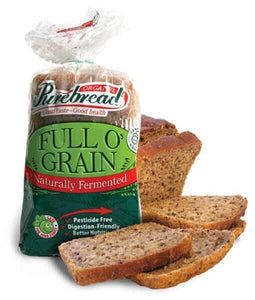 ie-produce
Purebread Full O'Grain Organic Grain Sourdough
Purebread Full O'Grain Organic Grain Sourdough
Full O'Grain is our European-style, grain bread. This Purple kibble & Sourdough loaf is great for making healthy sandwiches and the world's best toast!
Moist and grainy, this loaf is baked with the goodness of soaked Konini kibbled wheat.
We ferment our soy flour to make it more digestible and to unlock the valuable protein, vitamins and minerals. The complete dough is then naturally fermented, doubling in size over hours which breaks down the complex carbohydrates, making it much more digestible and enhancing the flavour.
Full O'Grain is certified organic, and therefore, free from pesticides and herbicides commonly found in non-organic bread. All ingredients are grown and produced using sustainable farming practices that nurture and protect our land.
Ingredients: Certified Organic Wholemeal and White flour, Organic Rolled Oats, Organic Raw Cane sugar, Organic Kibbled Wheat, and Organic Soy Flour, Eco-Living Filtered Water, Organic Sunflower Oil, Olive Oil, Certified Sea Salt and Fresh Yeast.
---
More from this collection