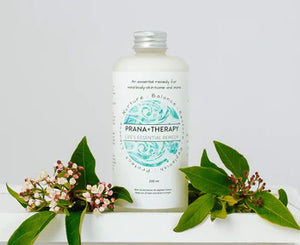 ie-produce
Prana+Therapy Formula Original w Lemongrass & Sandalwood 100ml (frosted bottle)
Prana+Therapy Formula Original w Lemongrass & Sandalwood 100ml (frosted bottle)
ONE FORMULATION WITH OVER 100 USES PACKAGED IN WAYS THAT MAKE IT EASY TO USE ALL DAY EVERY DAY.

We need to take extra special care of ourselves in the most natural way possible.  Prana+Therapy with its 19 perfectly synergised essential oils in spray form, can nurture, cleanse, soothe, refresh and restore you throughout the day in a number of practical and vital ways
Beautiful frosted glass bottle, ideal for refilling your 10ml Prana+Therapy nasal atomizer. 
This container is well suited to these uses…
Handy in the bathroom to refill your toothbrush cup for sanitation, for mouth wash, and as a make-up cleanser and skin toner.

Perfect for those little applications that don't require a mister.

Skincare: protect and heal the skin by restoring the natural PH balance. 

Anti-bacterial and anti-spasmodic. 
Prana+Therapy Formulation Ingredients
Pure multi-filtered de-ionized water with a synergistic blend of 100% pure organic and wildcrafted, steamed, distilled essential oils including Eucalyptus, Spruce, Lavender, Lemon, Fir, Manuka, Grapefruit, Rosewood, Patchouli, Rose Geranium, 
The Prana+Therapy Formula is a Functional Remedy.  This means that you gain the benefits of the 19 essential oils whilst you are using the product.  This is through inhalation and absorption.  Whether you are spraying it or applying it topically this synergistic blend will really impress you with its multi-functional ability.    
Because it has so many uses 
50 ml and 100 ml are perfect for taking with you in your handbag, in your car, or in your gym bag. For sanitsing surfaces, refreshing spray, for stings, cuts, abrasions, sunburn
200 ml you can keep in your bathroom for personal use, for toner, make up remover, mouthwash, feminine hygiene, aftershave, aftersun, hair detangler.
400 ml & 500 ml can be used in the kitchen and bathroom for cleaning all surfaces and sanitising/anti-bacterial.
---
More from this collection