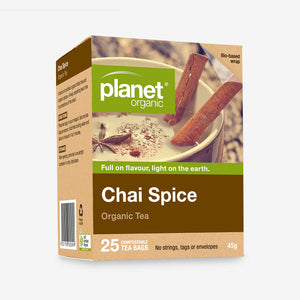 ie-produce
Planet Organic Chai Spice Tea 25tbags
Planet Organic Chai Spice Tea 25tbags
Indulge in the rich and aromatic flavours of Planet Organic Chai Spice Tea.
 Savour the bold and invigorating taste of organic black tea, accented with the warm and fragrant notes of aromatic spices. With 70% black tea and 30% organic spices, this chai spice tea delivers a robust and well-rounded taste that is sure to awaken your senses.
Certified Organic: Black Tea (70%), Cinnamon, Clove, Cardamom, Ginger, Nutmeg.
Place tea bag in cup or teapot. Use one tea bag per person. Add fresh boiling water and
allow to infuse for 4 to 5 minutes.
---
More from this collection