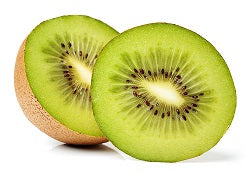 ie-produce
Fruit - Green Kiwifruit
Organic Green Kiwifruit - BioGro Certified
600gm
A nutritious, delicious, green kiwifruit that's full bodied, full of health and full of flavour. With its vibrant green flesh, distinctive sweet and sour taste and renowned digestive benefits, Zespri Green sets the benchmark for the global kiwifruit category. The classic Zespri Green Kiwifruit is also known as the Hayward variety and is the most commonly recognised and popular kiwifruit worldwide.
Zespri Green Kiwifruit was first developed in New Zealand by Hayward Wright in the 1920's. It is oval-shaped with brown, fuzzy skin. The vibrant, green flesh contrasts with a white core and small, black seeds. Zespri Green Kiwifruit is a tangy, sweet and sour combination of invigorating flavours.
Zespri Green Kiwifruit is simply bursting with vitamin C, fibre and antioxidants. One Zespri Green contains more fibre than four sticks of celery and more vitamin C than an orange. And due to its low pH value, the vitamins do not deteriorate during storage.
Zespri Organic Kiwifruit is enjoyed by discerning consumers looking for the exceptional eating quality and nutritional benefits of kiwifruit, with the additional assurance of certified organic growing methods with only approved organic inputs. The delicious taste of Zespri Organic Green and Zespri Organic SunGold is backed by rigorous certification by BioGro New Zealand (New Zealand's leading independent and internationally recognised certification agency) and approved to stringent international standards to reach consumers in Japan (JAS), Europe (IFOAM), United States (NOP), Canada, South Korea, China, Singapore and a range of emerging organic markets.
Zespri Organic Kiwifruit offers consumers a healthy choice that is both good for them while using sustainable production practises to protect the environment. 
---
More from this collection