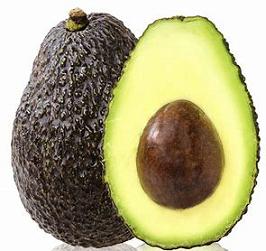 ie-produce
Fruit - Avocado
Organic Avocado - BioGro Certified
Nutrition & Health
More Kiwis than ever are declaring their love for avocados. And you can understand why. These gorgeous, versatile, melt in your mouth fruits really are just perfect; not only are they packed with flavour but research tells us that they may also have many amazing nutritional and health benefits. 
The top 10 evidence-based reasons for eating avocados every day
Nutrient dense - Packed with almost 20 nutrients
Good for the heart - Play a role in managing coronary heart disease.
Healthy fats - An excellent source of healthy monounsaturated fats. 
Good source of fibre
Packed with antioxidants - Vitamins C & E for normal immune, brain and nervous function
Eye health - Carotenoids in avocado may protect your eyes.
Fighting fatigue - Contain the B vitamins folate, B6 and niacin plus vitamin C for energy.
Full of folate - Essential during pregnancy and for mums-to-be. 
Perfect baby first food - The ideal flavour, consistency and nutritional content
Weight and Type 2 Diabetes management - Supports weight loss, and appetite and blood sugar control. 
How to select your avocado
Hass avocados change colour as they ripen so choose an avocado based on its colour rather than squeezing as this causes bruising. Avoid extremely soft avocados with very dark skin or dented or flattened areas.
---
More from this collection