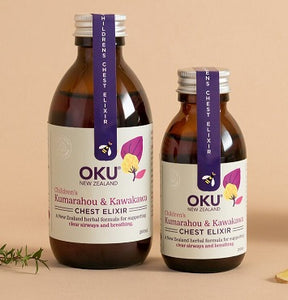 ie-produce
Oku Children's Chest Elixir - Kumarahou and Kawakawa 200ml
Oku Children's Chest Elixir - Kumarahou and Kawakawa 200ml
While the Children's formula contains the four main NZ herbs found in the Adult Chest Elixir, the ratio between them and the base ingredients have changed slightly to make for a more pleasant tasting combination that is easier for young children or the seriously 'taste challenged' among us to take. A unique formulation that incorporates all of the wonderful benefits of the Adult formula with both wet & dry irritations in the airways and adds Akeake that may offer additional support with temperatures.
Can be taken by Children aged 1 & over.
Dosing: 1-7.5ml depending on age of child taken up to 5x daily for acute or 3x daily for maintenance.
Ingredients: Kumarahou*, Kawakawa*, Manuka*, Hoheria glycetract*, Akeake*, Ginger+, Rewarewa Honey*, Peppermint Oil+. Non actives: Apple Juice Concentrate, Non-Palm Vegetable Glycerine.
+Organic or *Wildharvested
Some of the benefits of OKU Chest & Throat Formula:
Can be used for both wet & dry irritations of the respiratory system

Taken short-term for acute respiratory symptoms & safely taken on-going for more chronic support

Powerful NZ native herbal formula with a long history of traditional use in supporting the respiratory system

Very effective at clearing the airways of mucus

Contains herbs which have properties to assist with reducing fevers & encouraging sweating

All OKU Elixirs are safe for children aged over 1
Precautions: Not recommended in pregnancy, contains alcohol (herbal extracts).
Allergy Information: Does not contain any dairy or gluten but it does contain honey.
Each 1ml contains: Tincture equiv dry: NZ Native Herbal Blend: 100mg (Kumarahou, Kawakawa, Manuka, Akeake, Houhere Glycetract), Ginger:1.25mg, Rewarewa Honey: 220mg. Also contains: Peppermint Essential Oil, NZ Apple Juice Concentrate, Non-Palm Vegetable Glycerine.
What it doesn't contain: sugar, gluten. yeast, dairy, artificial flavours, colours, preservatives or sweeteners.
This product is artisanal, natural & handmade with aroha - please shake well before use
Advice: Always read the label and use only as directed. If symptoms persist please contact your health care professional.
---
More from this collection