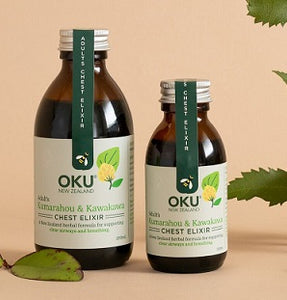 ie-produce
Oku Adult's Chest Elixir - Kumarahou and Kawakawa 200ml
Oku Adult's Chest Elixir - Kumarahou and Kawakawa 200ml
A blend of Wildcrafted NZ Native Herbs that include the remarkable Kumarahou which has a rich traditional use for supporting clear airways and breathing. It has a completely natural base with no artificial sweeteners, colours or flavours. Uses instead the beautiful tasting & properties of NZ Rewarewa honey. A unique formulation that may assist with both wet & dry irritations in the airways.
This is the full strength combination that can be taken by Children aged 1 & over.
Dosing: 1-5ml for Children, 5-10ml for Adults taken up to 5x daily for acute or 3x daily for maintenance. Can be taken neat off spoon or mixed with some blackcurrant juice. Best taken in warm to hot water to really deepen the action of the herbs.
Ingredients: Kumarahou*, Kawakawa*, Manuka* , Hoheria*, Horopito*, Ginger+, Rewarewa Honey*, Peppermint Oil+. Non actives: Apple & Blackcurrant Juice Concentrate, Non-Palm Vegetable Glycerine. 
+Organic or *Wildharvested
---
More from this collection